JoJo Corrales-Kean (Educator) has two children. A wonderful little boy born in 2014 and a daughter born in 2017. She has been babywearing since her son was only a few weeks old. She favors wrapping but also likes the convenience of an onbuhimo (waistless buckle carrier). Jojo also serves as our chapter Vice President and considers herself a "Jill of all trades" (master of none). She enjoys making suck pads for the BWCT library when she has free time. When she is not volunteering for Babywearing Connecticut you can find her racing cars, crafting, volunteering at her son's school, or working full time as VP, Medical Director at BioMedCom Partners, a medical communications agency.
Abigail Curtiss (Volunteer) has been a Babywearing Volunteer  since the end of 2017.  She has a daughter born in April of 2017 and she has been wearing her since she was 9 days old. She started with a stretchy wrap and soft structured buckle carriers then ring slings, woven wraps and Onbuhimos. Abigail is currently serving as our Librarian. When she is not volunteering with Babywearing Connecticut, she works full time as a Surety bond professional in the insurance industry and is also an aspiring photographer.
Lore Slaughter (Volunteer) is mom to a little boy born who was born in 2016.  She has been babywearing since her son was a few days old.  She has enjoys using a wide variety of carriers including, but not limited to, ring slings, woven wraps, and buckle carriers.  She is currently serving as our chapter secretary and is in charge of compiling and sending out our month newsletter each month.  She has also worked hard to keep our website updated.  Lore is currently a stay at home mom but works as a blogger and brand ambassador for Rumina Nursingwear.  She has a degree in English and Secondary Education.
Emily Courtney (Educator) has three kids, 2, 5.5, and 8, and has been wearing since her oldest was a newbie. Her favorite carrier type changes depending on what she's doing, but she is finding myself reaching for soft structured carriers lately because of how quick they are, which is essential with a busy toddler! When she's not volunteering with Babywearing Connecticut she teaches piano, choir, and likes hanging out with her kiddos!
Victoria Simmons (Educator) is a mom of a kindergartener, preschooler, and a baby. She has been Babywearing for over 5 years since her youngest was a newborn. Babywearing helped her to bond with her babies and keep that close connection past infancy.  She is an educator located in Tolland county, and the Cheshire meeting she most often attends.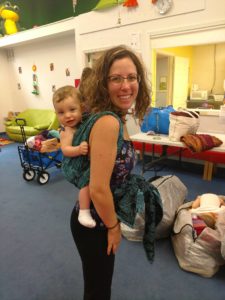 Gina Healy (Volunteer) is mom to Angelina, born in 2017. She began her babywearing journey when her daughter was born, upon reaching out to BWI for some help and hands on learning. She enjoys using her Ring sling, Lillebaby soft structured carrier, and wraps. Gina is currently a Behavioral Health nurse, working on her degree to become a Psychiatric APRN. She loves crocheting, swimming in her pool, and spending time with her daughter.